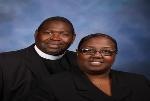 Elder Elliott Brown preaches and teaches the Word of God with simplicity and clarity. He endeavors to encourage men and women to "get ready and stay ready, because Jesus is coming soon", and inspire the people of God to trust Him – no matter what!! He also seeks to encourage the youth to get an education, but not to forget salvation.

Elder Brown is the oldest of three children born to Bishop E. T. Brown, Jr and Mother Leoza Darby Brown (his two sisters also are ministers). He graduated from the University of Central Florida in 1985 with a degree in business management. He is married to Sister Cheryl Jackson Brown and they together have three children; Candace, Charnele and Elliott IV. He has been employed as a Claim Representative for State Farm Insurance for over 30 years.

Elder Brown is a third generation preacher, following in the footsteps of both his father and grandfather, the late Rev. E. T. Brown, Sr. He was saved and filled with the Holy Ghost in 1979 at the age of 16. He accepted his calling to preach the gospel in 1986, and ordained as an Elder by Bishop M. L Sconiers in 1992.

Elder Brown served as an assistant to Superintendent David Thompson at Tildenville Church of God in Christ for many years. Among his duties were assistant Men's Sunday School Teacher, Building project coordinator, and Radio Ministry. He was appointed Orlando District Sunday School Superintendent in 1999. Elder Brown was appointed as Pastor of Tildenville COGIC on November 30, 2009.